Install firefox on mac
Mozilla Firefox 55 is now released and available to download and install so we will install firefox on mac.
New customer offer! Top courses from $12.99 when you first visit Udemy
Mozilla Firefox 55 is a fast, secure and easy to use web browser that offers many advantages over other web browsers. This award-winning, open source web browser is packed with advanced security features designed to help you stay safe, and in control, online. The optimized Firefox 55 lets you view Web pages way faster, using tabbed browsing, the ability to block pop-up windows and less of your computer's memory. Also it allows you to synchronize your browsing across multiple devices. Access your bookmarks, history, passwords and more from any device to make Firefox your own wherever you use it. Mozila Firefox 55 has the biggest number of ways to customize your online experience specifically for the way you use the web.
Read Also: How to install firefox 55 on linux
Download firefox for mac
Firstly, We will download the latest firefox. You can go to following link to download latest firefox.
https://download.mozilla.org/?product=firefox-55.0.1-SSL&os=osx&lang=en-GB
Install firefox on mac
After download a popup with firefox will open automatically and then drag the firefox in applicaton folder.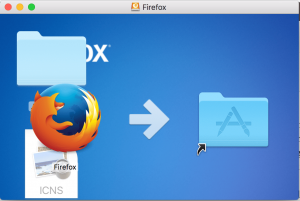 If the pop up doesn't open, you can go to Downloads and open firefox manually and then drag firefox to Applications folder.
Start firefox
If you want to start using firefox just navigate to Application folder and then double click on firefox. It will start firefox.
Read Also: Install pghero – A performance dashboard for postgres 
If you have any issues using this tutorial please feel free to comment below.